Fig. 1
Steps in next-generation sequencing and data analysis workflows where error and bias introduction may occur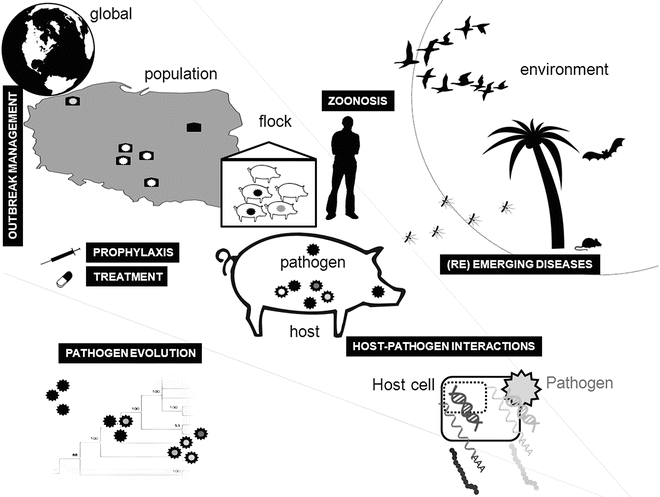 Fig. 2
High-throughput technologies can be applied to numerous aspects of animal infectious diseases
As a result of errors and bias introductions, NGS data needs to be "cleaned". This includes sequence filtering (removing low-quality sequences) and alignment followed by variant calling and error correction. Discriminating true biological variants from those due to experimental noise is an important issue when trying to identify low-frequency variants in a population, for example, in viral quasispecies or metagenomic analyses, and there are currently a number of bioinformatics tools to aid in this (e.g., [
23
–
26
,
19
]). Currently, a multitude of software has been developed to address different aspects of NGS analyses [
27
,
28
]. However, the available algorithms for both genome assembly and amplicon analysis can present some limitations [
29
], meaning that custom-made scripting and in-house resolution of bioinformatic problems are often needed to investigate novel datasets and specific hypotheses. In this context, researchers are frequently faced with the need to acquire computer skills and bioinformatics expertise. To evaluate the potential of NGS for a wider group of scientists and diagnosticians, there is a real need to develop flexible and practical bioinformatics workflows that can provide user-friendly tools for the analysis of massive datasets and that become publicly available. Although some software with a menu-driven approach is available (e.g., Geneious, CLC Workbench, Galaxy), most applications are optimized on UNIX-based operating systems and require some bioinformatics expertise. Although less user-friendly, UNIX-based pipelines are typically freely available to the NGS user community and are equipped with algorithms that track the high pace of innovation in the NGS field.
A further issue is the scale of genetic data produced by NGS technologies which presents a physical constraint in terms of data storage and analysis. Although limited datasets (e.g., resulting from the desktop-range 2nd-generation sequencers) can be managed using modest computing resources, like high-end desktop computers running virtual Linux machines [
4
], larger datasets typically require high-performance computational clusters, which present a considerable investment and require sufficient information technology (IT) support. Cloud computational resources (i.e., renting time from commercial high-performance computational clusters) may be a solution [
30
] although further developments are needed, given the data transfer issues resulting from huge file sizes [
4
]. Another issue for diagnostic laboratories is protection of data from unauthorized access, which cannot be guaranteed in the cloud, as data from diagnostic examinations need to be kept confidential. For labs frequently producing NGS data, data storage and backup costs can be substantial. Ideally, these huge genetic datasets should be made publicly available to the scientific community as they provide a source of information applicable to better understanding disease, design of targeted assays, systems biology, and integrated OMICS analysis approaches. To this end, online repositories such as the Sequence Read Archive (SRA; [
31
]) have been created to store both raw NGS and intermediate analysis files.
It will also be important to consider how results from complex and massive NGS datasets will be communicated to policy groups and the public and become a decision-supporting tool. To this end, it is necessary that scientists and diagnosticians develop and agree on data formats for the communication of NGS results for analyses that go beyond simple genome sequences, for instance, for reporting quasispecies compositions.
3

Application of NGS to Animal Infectious Disease
4

Conclusions

Next-generation sequencing technologies have the potential to revolutionize our understanding of the complex dimensions of animal infectious disease and infection biology (Fig.

2

), ranging from the intracellular interactions to disease epidemiology. The application of high-throughput biotechnology platforms in these fields and their typical low-cost per information content has increased the resolution with which these processes can now be studied.

We now have high-resolution tools that provide veterinary diagnostic laboratories with the ability to undertake swift and flexible responses to emerging infectious diseases and unexpected pathogen variants. Moreover, these tools provide an increased resolution for the characterization of pathogens and provide important assets to improve our understanding. Fundamental research on pathogen evolution, adaptation, and virulence determinants can now be studied on a scale allowing within and between host dissections of genetic variability. Moreover, high-throughput tools open new perspectives to study the complex interaction between pathogen, host, and microbiome with very high resolution and to deepen our understanding of the key biological processes leading to protective immunity.

Not only will our increased understanding of pathogens and their interaction with livestock impact on future disease prevention, control, and management strategies, but the technologies may themselves become part of the intervention strategies, providing high-resolution data for molecular epidemiology to rapidly trace the origin and spread of outbreaks, for molecular typing, for predicting, and for optimizing the outcome of targeted treatment with antibiotics, antivirals, and anthelmintic.

The ready availability of high-resolution genomic and transcriptomic data will impact upon the targeted development of novel vaccines and drugs [

156

,

157

], while NGS has the potential to become a powerful tool for the control of vaccines and other biological products.

As with any new technology, challenges remain. In the case of NGS, these include the requirement for expertise in both the laboratory and in the analysis of huge datasets and the current need for high investment in laboratory and data analysis hardware. As the technology is ever evolving towards lower cost, user-friendliness, and accessibility for smaller research and diagnostic labs, efforts are needed to make the data analysis more accessible to nonexpert users. This includes proper modeling of the sources of error introduction, solutions for public data storage, development of user-friendly but high standard analysis pipelines for routine applications, etc. Both the industry and the NGS user community can play a role in this evolution.

Similarly, recent improvements in protein and peptide separation efficiencies and highly accurate mass spectrometry have promoted the identification and quantification of proteins in a given sample [

158

]. Directly targeting peptide and protein content in a sample, proteomic approaches provide important additional information taking known issues, such as the quantitative discrepancy between mRNA transcript levels and final protein levels and posttranslational modification, into account [

159

].

Novel proteomic approaches have been applied to animal infectious disease research, including the study of

E. coli

response to chicken sera [

160

], proteomic profiling of porcine sera after FMDV infection [

161

], host-pathogen interaction during bovine mastitis [

159

], and metaproteomic studies characterizing the collective proteome of microbial communities [

162

].

This section contains excellent contributions exploring the application of high-throughput technologies to animal infectious diseases, including functional genomics of tick vectors infected with eukaryotic parasites, metagenomic approaches to detect bee viral pathogens, proteomics of vector-host-pathogen interactions, and NGS applications exploring parasites and intervention strategies.
Acknowledgments
The collaboration between the authors was supported by Epi-SEQ: a research project supported under the 2nd joint call for transnational research projects by EMIDA ERA-NET (FP7 project nr 219235). Additional support for this work in the United Kingdom was obtained from the Department of Environment, Food and Rural Affairs (Defra project SE2940) and BBSRC (BB/I014314/1).