Chapter 2 Gastrointestinal Microbiota
The intestinal microbiota is the collection of all live microorganisms that inhabit the gastrointestinal (GI) tract. The word microflora is often used synonymously, but microbiota (from bios, Greek: life) is the technically correct term. The intestinal microbiota plays an important role in GI health and disease, yet our understanding of the composition, dynamics, and functionality of the intestinal ecosystem remains rudimentary. The total microbial load in the intestine is estimated to be 1012 to 1014 organisms, approximately 10 times the number of body cells. It is estimated that the intestine harbors several thousand bacterial strains.1,2 This mutually interacting system comprising the host cells and the resident microbes is termed the intestinal microbiome. The microbiota can be influenced by exogenous factors such as diet and antibiotic administration, but it is usually resilient to these changes and returns rapidly to its pretreatment state. Therefore long-term treatment strategies for modulating the microbiota are necessary. New molecular tools have improved our understanding of microbial diversity in the intestine. Although the major phylogenetic lineages are similar, the microbiota differs substantially at the level of species and strain in each individual animal of the same species. Yet despite these differences, the metabolic end products in the intestine are very similar between individuals. New metagenomic approaches suggest the presence of a "core microbiome," where the function of the intestinal ecosystem is independent of the presence of specific bacterial species or strains. For better understanding of microbial–host interactions in health and disease, future work must focus on the intestinal microbiome as one entity, evaluating its phylogenetic composition as well as metabolic functions.
As a result of anatomical and physical differences, each intestinal compartment constitutes a unique ecosystem where microorganisms have their own niche and provide specialized functions by utilizing host nutrients and in return providing metabolites for host uptake (Table 2-1). Molecular studies reveal that each dog and cat has a unique microbial profile.6,19 The microbiota is similar at higher phylogenetic level between individual animals of the same species, but it differs substantially at the level of species and strain, with typically only 5% to 20% overlap in bacterial species between individual animals. Bacterial counts and diversity increase along the GI tract and may vary between the intestinal lumen and the mucosa.19,20 Bacterial counts vary between the fed and fasting state. The oral cavity is an important part of the intestinal ecosystem, because bacteria are constantly swallowed and they may be able to colonize parts of the intestine. The composition of the oral microbiota is complex. In one study, 84 different cultivable phylotypes were identified in the oral cavity of dogs, with the major groups being Actinomyces, Porphyromonas, Fusobacterium, Neisseria, and Streptococcus spp.21 Oral bacterial counts can reach up to 107 colony-forming units per gram (CFU/g). The stomach harbors 101 to 106 CFU/g, while bacterial counts in the duodenum and jejunum of dogs and cats range from 102 to 109 CFU/g. This is considerably higher than found in the human duodenum (<105 CFU/g). Cats appear to have higher counts of anaerobic bacteria in the small intestine compared with dogs.22 The ileum is a zone of transition between the small and large bowel and contains a more diverse microbiota and higher bacterial numbers (107 CFU/mL of contents) than the proximal small intestine. Colonic bacterial counts range between 109 and 1011 CFU/g of intestinal content. The predominant bacterial groups cultured from the canine and feline intestine include Bacteroides, Clostridium, Lactobacillus, Bifidobacterium spp., and Enterobacteriaceae (Table 2-2).
| Microbial Activity | Products | Representatives |
| --- | --- | --- |
| Decarboxylation, deamination of amino acids | Ammonia | Clostridium spp., Peptostreptococcus spp., Peptococcus spp. |
| Deconjugation/dehydroxylation of bile acids | Secondary bile acids (cholate/deoxycholate) | Clostridium hiranonis, Lactobacillus spp. |
| Vitamin synthesis | Vitamins K2, B12, biotin, folate | Enterococcus spp., Pseudomonas spp., Sphingomonas spp., Lactobacillus spp. |
| Carbohydrate fermentation | Lactate, propionate, acetate, butyrate | Clostridium cluster XIVa, Prevotella spp., Faecalibacterium spp., Bifidobacterium spp. |
| Amino acid fermentation | Hydrogen, methane, amines, phenols, ammonia (NH3), organic acids, hydrogen sulfite | Sulfate-reducing bacteria (SRB), Desulfovibrio spp., Clostridium spp., Peptostreptococcus spp. |
| Degradation of oxalate | Formate and CO2 | Oxalobacter formigenes |
| Inulin and starch degradation | Lactate | Bifidobacterium spp. |
| Metabolism of alcohols and acetic acid | Methane and CO2 | Methanobacteria |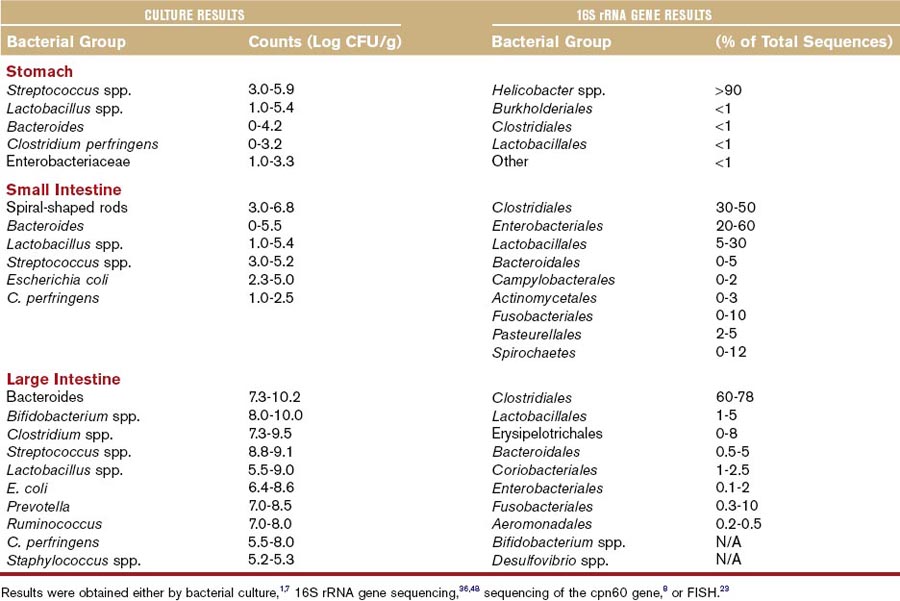 Because the vast majority of intestinal bacteria are not cultivable, molecular analysis (typically based on characterization of 16S rRNA) has expanded knowledge of diversity within the mammalian gut.2,7 Several thousand individual phylotypes are estimated to inhabit the human colon.1 There are approximately up to 900 bacterial phylotypes in the canine jejunum.2 Despite this vast diversity, only 12 of the 55 known major phylogenetic lineages have been observed in the mammalian GI tract (see Table 2-2). The phyla Firmicutes, Bacteroidetes, Proteobacteria, Actinobacteria, Spirochaetes, and Fusobacteria constitute almost 99% of all gut microbiota in dogs and cats. The remaining 1% is represented by the phyla Tenericutes, Verrucomicrobia, TM7, Cyanobacteria, Chloroflexi, and a few unclassified bacterial lineages. The relative proportions of these groups vary along the GI tract (see Table 2-2). Generally, proportions of aerobic bacteria or facultative anaerobic bacteria are higher in the proximal intestine, while anaerobes predominate in the colon. In the stomach, mucosa-adherent Helicobacter spp. predominate, followed by various lactic acid bacteria (e.g., Lactobacillus and Streptococcus spp.) and Clostridium spp. The proximal small intestine is more diverse than the stomach and harbors approximately 10 different bacterial phyla, with Clostridia, Lactobacillales, and Proteobacteria dominating.2 Proteobacteria and Spirochaetes are present in higher proportion in the proximal GI tract and typically represent <1% of sequences in the large intestine of healthy animals. Firmicutes is the major group represented in fecal samples (ranging between 30% to 95% of 16S rRNA gene sequences in various studies), followed by Bacteroides, Actinobacteria, and Fusobacteria. Firmicutes are a heterogenous bacterial phylum. They are represented mainly by the Clostridiales and Erysipelotrichaceae. Within those orders, Clostridium spp., Ruminococcus spp., Faecalibacterium spp., Dorea spp., and Turicibacter spp. are the major groups. Based on phylogenetic analysis, the Clostridiales are comprised of at least 70 different species (Table 2-3), which are organized into phylogenetically distinct Clostridium clusters. These clusters differ in abundance in different parts of the intestine. Clusters XIVa and IV encompass many important short-chain fatty acid-producing bacteria (see Table 2-3) and predominate in the ileum and colon of both cats and dogs. Cluster XI and I (Clostridium perfringens group) are the second most abundant groups in the small and large intestine of dogs and cats.6,7
| | |
| --- | --- |
| Cluster I | Cluster XIVa |
| Clostridium perfringens | Dorea spp. |
| Clostridium colicanis | Roseburia/Ruminococcus group |
| Clostridium disporicum | Clostridium saccharolyticum |
| | Clostridium celerecrescens |
| Cluster IV | Clostridium symbiosum |
| Faecalibacterium spp. | Clostridium bolteae |
| Clostridium methylpentosum | Clostridium oroticum |
| Ruminococcus spp. | Clostridium methoxybenzovorans |
| | Clostridium algidixylanolyticum |
| Cluster XI | Clostridium hathewayi |
| Clostridium hiranonis | Clostridium amygdalinum |
| Clostridium bartlettii | Lachnospiraceae |
| Clostridium lituseburense | |
| Clostridium sordellii | Cluster XVIII |
| Clostridium glycolicum | Clostridium cocleatum |
| Peptostreptococcus spp. | Clostridium ramosum |
The order Clostridiales is the most abundant and most diverse group in the large intestine of dogs and cats, is comprised of at least 70 known species, and constitutes approximately one-third of total colonic bacteria.
Full access? Get Clinical Tree