(1)
Department of Immunology, Genetics, and Pathology, Uppsala University, Uppsala, Sweden
Abstract
Oligodendroglial tumors are primary tumors of the central nervous system that largely affect adults. The cell of origin is undefined, but the tumors display many features reminiscent of oligodendrocytes or oligodendrocyte progenitor cells. Here, we briefly recapitulate the history of oligodendroglial tumor research, discuss the current knowledge concerning the biology of oligodendroglial tumors, and thoroughly review the various mouse models that have been used and that are currently in use to study oligodendroglial tumor development.
Key words
Oligodendroglioma
Oligodendrocyte
Oligodendrocyte progenitor cell (OPC)
Platelet-derived growth factor receptor alpha (PDGFRA)
Epidermal growth factor receptor (EGFR)
CNPase
OLIG2
NG2
Mouse model
1

Introduction

Oligodendrogliomas display features of oligodendrocytes in their histological appearance. Oligodendrocytes are cells of the central nervous system (CNS) with main purpose to myelinate neurons. In this chapter, experimental models of oligodendroglioma are in focus. Histopathology and molecular genetics of human oligodendroglioma are described, and brief accounts of early oligodendroglioma models and more detailed descriptions of current models presented. Oligodendroglial tumors include according to the current WHO classification (Fig.

1a–d

): oligodendroglioma (WHO grade II), anaplastic oligodendroglioma (WHO grade III), oligoastrocytoma (WHO grade II), and anaplastic oligoastrocytoma (WHO grade III). For simplicity, we refer collectively to all types of oligodendroglial tumors as oligodendroglioma. In those instances where we specifically mean the clinical subtype oligodendroglioma we add grade II where applicable.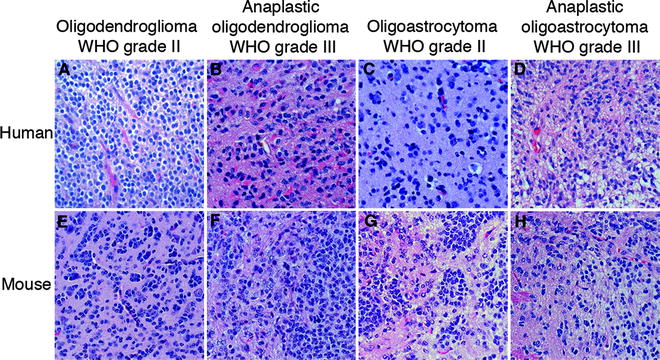 Fig. 1.
H&E stained sections of the various types (oligodendroglioma, anaplastic oligodendroglioma, oligoastrocytoma, anaplastic oligoastrocytoma) and grades (II and III) of (
a–d
) human oligodendroglial tumors and (
e
,
f
) PDGF-B-induced mouse oligodendroglial tumors from the Ctv-a model (
142
).
2

Classification and Biology of Oligodendroglioma
3

Cellular Origin of Oligodendroglioma

As mentioned above, oligodendrogliomas have been named after the cell type that they share most histological and morphological resemblance to. Notably, the cell of origin for oligodendroglioma is still unknown. As described previously, already in the 1920s and 1930s neuropathologists and neurosurgeons debated whether the histology of glial tumor cells reflected their cellular origin, the relationship between oligodendrocytes and astrocytes, and the existence of a common or shared progenitor cell (

4

,

10

,

11

). During the late twentieth century, many studies were focused on characterizing markers expressed by human oligodendrogliomas, and the result showed that they indeed shared many antigens with normal oligodendrocytes and oligodendrocyte progenitor cells (OPCs). Some markers of OPCs that are commonly expressed in oligodendrogliomas are NG2 (

17

,

88

), PDGFRA (

17

,

88

), OLIG2 (

13

,

14

,

16

,

89

), GalC in mouse and human, respectively (

90

,

91

), MBP (

92

), A2B5 (

91

,

93

), and Leu-7 in rat oligodendrogliomas (

94

). Antigens of mature oligodendrocytes, for example proteins associated with myelination such as proteolipid protein (PLP) and 2′,3′-cyclic nucleotide 3′-phosphodiesterase (CNPase), are only rarely expressed in oligodendrogliomas (

95

), confirming the observation by del Río-Hortega (

11

) that oligodendrogliomas exhibit OPC characteristics. Thus, the OPC with its high capacity for self-renewal seem to be in a favorable state for promoting neoplastic transformation, which does not necessarily mean that OPCs are the (sole) cell of origin for oligodendroglioma.

It should be noted that both astrocytic and/or neuronal markers are at times expressed in oligodendrogliomas (

96

,

97

). This could point to that oligodendrogliomas and astrocytomas in some instances may have a shared progenitor cell or merely illustrate the disturbed differentiation potential of glioma cells. Genetic analyses suggest that oligodendrogliomas and oligoastrocytomas have a common cellular origin due to their similar genetic profiles such as loss of 1p and 19q (

98

), and that the astrocytic component represents the skewed differentiation potential of the tumor cells.

There are studies supporting that GBs with a significant oligodendroglial contribution might have developed from an oligodendroglioma grade II or III rather than from an astrocytoma. GBs without TP53 mutations or EGFR gene amplification could be oligodendroglial GBs, since oligodendrogliomas rarely carry these genetic alterations as suggested by (

99

). Consequently, the histopathology of oligodendroglioma does not formally prove the cellular origin of these tumors.
4

Animal Models of Oligodendroglioma

Gliomas cannot be diagnosed until a tumor is present, and most gliomas are diagnosed at a late stage of the disease, which makes it difficult to study the mechanisms of tumor initiation in human biopsy material. Furthermore, due to ethical considerations clinical trials of novel drugs have to be preceded by preclinical trials in experimental models. Animal models of oligodendroglioma can help improve our knowledge of genetic, molecular, cellular and systemic mechanisms that contribute to tumor development, and be used in preclinical trials to identify promising candidate drugs.
4.1

Properties of a High Quality Oligodendroglioma Model

In our view, there are three basic features that need to be fulfilled in order to be regarded as a relevant and adequate animal model for oligodendroglial tumors: (1) The histopathology of the experimental tumor should recapitulate the histological characteristics of the corresponding type and grade of human oligodendroglioma. (2) The genetic alteration(s) should mimic signaling pathways activated in human oligodendroglial tumors. (3) The tumor should be orthotopic so that it develops in the proper microenvironment. Also, there are several additional properties of an experimental model that are highly desirable: (4) A defined cell of origin. (5) Temporal control of tumor initiation. (6) High tumor incidence and penetrance and short tumor latency. (7) Possibility to model different grades of oligodendroglial tumors.

The experimental models presented here have all generated tumors that have been classified as oligodendroglioma-like by their authors at the time of publication. Many of these models have produced tumors of various histopathologies, i.e., oligodendroglioma, oligoastrocytoma, and astrocytoma. This could be due to that astrocytic and oligodendroglial tumors share many genetic alterations but could also reflect that these different tumor types may in some instances arise from the same cell type. Also of note is that there have been continuous revisions of the WHO guidelines for classification of gliomas; hence, some tumors that were earlier classified as oligodendroglial tumors might not meet the criteria of today.
4.2

Early Oligodendroglioma Models

Early studies in the beginning of the twentieth century were focused on describing spontaneous oligodendroglial tumors in various animal species such as dog (

100

–

102

), cat (

100

,

103

), rat (

104

–

107

), horse (

100

), and cow (

100

,

108

). The first experimentally induced oligodendrogliomas were published in the 1960s where the Rous Sarcoma Virus (RSV) was used as the initiating agent.
4.2.1

RSV-Induced Oligodendrogliomas

RSV was the first oncovirus to be discovered by Peyton Rous in 1911, which awarded him the Nobel Prize in 1966. RSV contains the oncogene v-src (viral-sarcoma) that is derived from the protooncogene c-Src encoding an intracellular tyrosine kinase protein (

109

). v-Src lacks the C-terminal inhibitory phosphorylation of Tyr-527, present in c-Src, leading to constitutive activation and transformation of cells (

110

). In the 1960s and 1970s RSV was extensively used to induce brain tumors in dogs (

111

–

113

), mice (

114

), rabbits (

115

), and other mammals. Some of these tumors resembled oligodendroglioma while most were histologically similar to other types of glioma. This could be due to that RSV could not infect the appropriate target cells for oligodendroglioma and/or that v-Src signaling did not activate the pathways required for oligodendroglioma development. The low frequency of oligodendroglioma made this a poor model.
4.2.2

Chemically Induced Oligodendrogliomas

Various chemical agents have been used to induce experimental gliomas. The first and most commonly used chemical agent to induce gliomas was nitrosourea, a DNA alkylating agent that has cytotoxic, mutagenic, and carcinogenic effects (

62

). Nitrosourea can pass the blood–brain barrier, and glioma-like brain tumors were induced in both rats (

116

) (

117

,

118

) and rabbits (

119

) by intravenous, intraperitoneal, or oral administration, e.g., the widely used C6 rat glioma cell line was established from a glioma induced by ethylnitrosurea (

116

). The CNS tumors induced resembled histologically human oligodendrogliomas, astrocytomas, neurinomas, and ependymomas, sometimes with intermixed cell types. For many years these models were used to study the histological and morphological composition of glial tumors (

120

–

122

). Oligodendroglial-like tumors (in minority to astrocytic tumors) were also induced in rats by the combination of dietary lead subacetate and 2-acetylaminofluorene (

123

), and by embryonal distribution of methanesulfonate (

124

). None of the chemically induced models generated a high frequency of oligodendrogliomas; the majority of induced tumors were in fact astrocytoma-like. Other major disadvantages were the random and unspecific genetic alterations caused by the agents and the undefined target cells making tumor induction unpredictable and experiments difficult to reproduce.
4.2.3

Transplanted Oligodendrogliomas

In the 1950s, it became feasible to maintain cells in culture as the knowledge of their nutritional and environmental requirements expanded (

125

). The first transplantation models using cultured glioma cells were published in the 1960s (

126

). However, most cell lines have been established from high-grade astrocytomas, such as the C6 rat glioblastoma cell line (

116

), and there are very few mouse oligodendroglioma cell lines (G26-24 (

127

)) and human oligodendroglioma cell lines (e.g., IN/157 (

128

), HOG7 (

129

), TC620 (

130

), MO3.13 (

131

), KG-1C (

132

)) described. Recently, two anaplastic oligodendrogliomas with complete loss of 1p/19q have been explanted and maintained as neurospheres in culture (

133

). Cultured cells have shown to have characteristics of CSCs, and one of the cell lines (BT088) could initiate tumors similar to anaplastic oligodendroglioma in immunocompromised mice.

One major advantage with transplanted glioma models is that they are highly reproducible with regard to tumor incidence, latency, growth rate and location given that an established, transplantable cell line is being used. A weakness of grafted tumors has been that they often do not recapitulate the invasive growth of human oligodendroglioma. This has lately been greatly improved by the use of glioma-derived cancer stem cells for transplantation. When grafted these cells generate tumors with histopathology highly similar to the primary tumor, which make these models much more relevant for tumor biology studies and preclinical testing. However, so far very few CSC lines have been established from oligodendrogliomas (

133

). An additional limitation of transplanted models is that the role of cellular origin and underlying mechanisms of tumor initiation and progression cannot be studied.
5

Genetically Induced Oligodendroglioma Models

These are the experimental oligodendroglioma models most commonly used today. Table

1

presents a summary of the contemporary models generating oligodendroglioma-like tumors.

Table 1

A list of the most common contemporary experimental models of oligodendroglioma development
| Model system | Animal species | Target cell | Oncogene | Tumor suppressor gene | Histopathology | References |
| --- | --- | --- | --- | --- | --- | --- |
| Transplanted CSCs derived from OG | Mouse | NA | NA | 1p19q deletion | OIII | Kelly (2010) |
| RCAS/TV-A | Mouse | GFAP | PyV-mt | wt | OII-III, AIII | Holland (2000) |
| RCAS/TV-A | Mouse | GFAP or Nestin | PDGF-B | wt, Cdkn2a−/− | OII-III, AII-IV | Dai (2001) |
| RCAS/TV-A | Mouse | GFAP or Nestin | PDGF-B | wt, Ink4a−/−, Arf−/−, Cdkn2a−/− | OII-III | Tchougounova (2007) |
| RCAS/TV-A | Mouse | CNPase | PDGF-B | wt | OII-III, OAIII | Lindberg (2009) |
| MoMuLV | Mouse | Unknown | PDGF-B | wt | OII-III, AII-IV | Uhrbom (1998) |
| MoMuLV | Mouse | Unknown | PDGF-B | p53−/−, Cdkn2a−/− | OII-III, AII-IV | Hesselager (2003) |
| transgene | Mouse | GFAP | V12Ha-Ras + EGFRvIII | wt | OII, OAII | Ding (2003) |
| transgene | Mouse | S100β | v-erbB | wt, Cdkn2a+/−, p53+/− | OII-III | Weiss (2003) |
| transgene | Rat | S100β | v-erbB | wt | OII-III, AIV | Ohgaki (2006) |
5.1

Retroviral Models of Oligodendroglioma

Retroviruses (e.g., Avian leukosis viruses such as RSV, Murine leukemia viruses, Lentiviruses) confer stable transduction of genes into the host genome and have been widely used to study the significance of specific genetic alterations in glioma and many other tumor types. Common for all retroviral models is that the target cell needs to be dividing for retroviral infection to occur.

Eric Holland and Harold Varmus established the first RCAS/TV-A tumor model system (

134

,

135

) that has subsequently been used to model many other tumor types outside the CNS (

136

–

139

). The RCAS/TV-A model allowed for controlled and specific transduction of exogenous genes into distinctive glial cell populations of the brain. RCAS is a plasmid originally derived from RSV that was modified to harbor an exogenous gene (

140

). RCAS viruses are propagated in DF-1 chicken cells and can only infect cells expressing the avian tv-a receptor, required for infection of subgroup A Avian leukosis viruses, that is not present in the mammalian genome. Two transgenic mouse lines expressing tv-a in a cell type or tissue specific manner were generated using the nestin or GFAP (Glial fibrillary acidic protein) promoters, respectively (

134

,

135

). The Nestin promoter will direct infection by RCAS to neural/glial stem cells in the Ntv-a line, and the GFAP promoter to astrocytes and neural stem cells of the subventricular zone in the Gtv-a line (

141

). Recently, our lab has published a third tv-a transgenic mouse line for the study of CNS tumors, where the 2′, 3′-cyclic-nucleotide 3′-phosphodiesterase (CNPase) promoter was used to control tv-a expression (

142

) and target it to OPCs. Directed infection can take place by intracerebral injection of RCAS viruses in neonatal or adult mice and the tumor will develop orthotopically in a normal microenvironment. Some advantages with the RCAS/TV-A model over the early models described are that the cellular origin, genetic alterations and the time of induction can be controlled. The RCAS virus is replication-incompetent in mammalian cells, which will limit the contribution of insertional mutagenesis. The different tv-a transgenic mouse lines have been extensively used to model many types and grades of glioma. By infecting the three tv-a lines with RCAS-PDGF-B, oligodendrogliomas grade II can be reproducibly induced (Fig.

1

e) (

6

,

142

,

143

). Occasional oligoastrocytomas also developed in the Ctv-a mice (Fig.

1

g) (

142

). Through cross-breeding the tv-a transgenic mouse lines with mice carrying targeted deletions of the Cdkn2a locus, the separate roles of tumor suppressors p16

Ink4a

and p19

Arf

in PDGF-B could be studied. Loss of p19

Arf

have been found to be the major suppressor causing enhanced incidence and malignancy, producing a high frequency of grade III oligodendroglioma (Fig.

1

f, h) and glioblastoma in all three mouse lines (

143

,

144

). Thus, by using tv-a transgenic mice cross-bred with Arf−/− mice high-grade oligodendrogliomas can be robustly generated. The loss of other cell cycle inhibitors such as p21

Cip1

(

145

) and p27

Kip1

(

146

,

147

) have also been studied in PDGF-B-driven oligodendroglioma development, as well as the role of many putative glioma-causing genes/pathways such as SOX10 (

19

), IGFBP2 (

148

,

149

), SOX5 (

150

), nitric oxide-induced signaling (

151

), and DNA damage response genes (

152

). The PDGF-induced Ntv-a model has also been used in preclinical investigations, e.g., to analyze the effects of the AKT inhibitor perifosine (

153

), and the antiangiogenic/immune-modulating histidine-rich glycoprotein (HRG) (

154

).

Moloney Murine Leukemia Virus (MMLV)-based vectors have also been widely used to model many different types of tumors, including oligodendroglioma, in mice. MMLV will deliver the exogenous gene in an undefined manner infecting most murine cell types. The first oligodendroglioma-like tumor generated by MMLV infection came from infection of fetal rat brain cells by a replication-incompetent MMLV encoding ras and myc oncogenes that were subsequently transplanted into the brains of syngeneic hosts (

155

). A few years later, our lab used a combination of replication-competent and replication-incompetent MMLV carrying the human PDGF-B cDNA that were injected into the brains of neonatal mice (

156

,

157

). The mice developed tumors with a high incidence and many showed a histopathology similar to human oligodendroglioma. The model was made with the purpose to be used as a tool to identify retrovirally tagged cancer-causing genes complementing PDGF-B in glioma development and several novel and known brain tumor loci were subsequently identified (

19

,

150

,

158

–

161

). MMLV vectors have been used to transduce mouse neural stem cells and astrocytes in vitro with a wild type or constitutively active EGFR mutant, EGFRvIII (in-frame deletion of exons 2 to 7 spanning the extracellular ligand-binding domain that will produce a truncated, ligand-independent, constitutively phosphorylated receptor), which upon transplantation formed tumors with some oligodendroglial-like features (

162

). Some concerns with MMLV models have been the undefined cellular origin and the unknown contribution of retroviral insertional mutagenesis, the latter being applicable to retroviral models in general.
5.2

Transgenic Models of Oligodendroglioma

Transgenic mouse models have been extensively used to evaluate the significance of overexpression of oncogenes and targeted deletions of tumor suppressor genes in glioma. In addition, as exemplified above, many mouse lines carrying targeted deletions have been used in combination with retroviral models. When discussing transgenic models one needs to bear in mind that, contrary to viral models, the transgene analyzed will only be expressed as long as the promoter controlling its expression is active, which may explain why transgene models often are less efficient in generating tumors.

In 2003, Weiss et al. published a transgenic mouse model where a retroviral transforming allele of the EGF receptor, v-erbB, the viral homolog of the human EGFR that is lacking a large portion of the ligand-binding domain and has ligand-independent, constitutive tyrosine kinase activity much like the EGFRvIII, was expressed under the S100β promoter (

7

). Albeit S100β is expressed in many glial and neuronal cells of the CNS induced tumors were diagnosed as oligodendroglioma grade II. When cross-breeding the S100β-v-erbB mice with mice carrying targeted deletions of the p53 pathway, tumor development was accelerated and anaplastic oligodendroglioma developed. In a subsequent investigation, the cellular origin of tumors from the S100β-verbB model was deduced to be OPCs of the white matter (

163

). Similarly, Ding et al. described the generation of oligodendroglial-like tumors from combined transgenic expression of the EGFRvIII and

V12

Ha-Ras (RasB8), both under the control of the GFAP promoter (

8

). Also, transgenic expression of v-erbB in S100β expressing cells in rats produced oligodendrogliomas, anaplastic oligodendrogliomas, and glioblastomas (

9

,

164

). Worth mentioning is that pCNPase-hEGFR transgenic mice did not develop any tumors (

165

). However, in this study the normal human EGFR was being used.

Data from human tumors suggests that aberrant PDGF signaling is more common than EGFR signaling in oligodendroglioma. However, transgenic models of PDGF expression have not been very potent in inducing gliomas. PDGF-B expressed under the control of the GFAP promoter had to be crossed with TP53 null mice to develop oligodendrogliomas and glioblastomas (

166

). Likewise, transgenic mice expressing PDGF-B from the nestin promoter did not produce any gliomas in the wild-type background (

167

). This could be due to inadequate expression levels and/or inaccurate spatiotemporal expression of PDGF-B for oligodendroglioma to develop.
5.3

Conclusions from Oligodendroglioma Modeling