Chapter 3. Congenital, developmental, or hereditary abnormalities in animals
OBJECTIVES
• To illustrate the pathological changes seen in developmental ocular malformations, in a way that is helpful to both the diagnostic pathologist and the clinician who seeks insight into the pathology and pathogenesis of clinically observed lesions
• These cases are infrequently seen in a pathology collection. Of case submissions to the COPLOW collection, 2% are congenital disease or abnormalities of ocular development. Typically, only cases in which the abnormality leads to euthanasia or enucleation are submitted. Examples include:
▪ Euthanasia because of other concurrent developmental problems
▪ Euthanasia because the affected animal may be considered unsuitable for breeding
▪ Euthanasia or enucleation because of disfiguring eye disease
▪ Enucleation because of glaucoma
• Almost every species and breed of domestic animal has a list of genetic or presumed inherited diseases which are seen in greater numbers in the specific breeds. However, few of these conditions are regularly sampled for histopathology, and, in general, only those which are represented in the COPLOW collection are presented in this chapter.
• The optic vesicle bulges out from the primitive neural tube ectoderm, making contact with the surface ectoderm, thus stimulating the local ectoderm to form the lens placode (
Fig. 3.1
)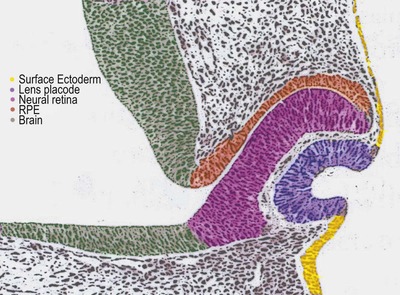 Figure 3.1
(Adapted with permission from Inagaki S, Kotani T 2002 Examination of the rat eye at the early stage of development with osmium tetroxide staining.)
• Lens placode invaginates to form the lens vesicle which separates from the surface ectoderm (
Fig. 3.2
)
▪ Incomplete separation of the lens vesicle leads to developmental abnormalities of the anterior segment, involving the lens, cornea and anterior uvea.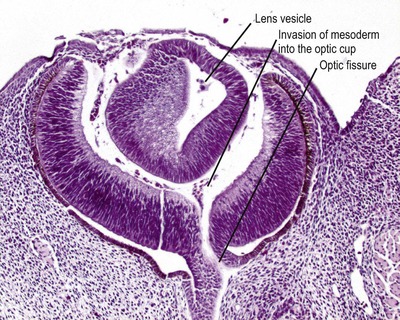 Figure 3.2
• Invagination of the optic vesicle to form a bi-layered optic cup
▪ Failure of normal growth and invagination of the optic vesicle may lead to optic cyst, anophthalmia, microphthalmia, or combined abnormalities of the brain and eye.
• Invasion of vessels and associated mesenchyme into the optic cup to form the primary vitreous and
tunica vasculosa lentis
▪ Failure of the primary vitreous and tunica vasculosa lentis to form can lead to microphthalmia
• Sprouting of the neuroepithelium from the anterior margin of the optic cup to form the double-layered ciliary and iridal epithelia (
Fig. 3.3
)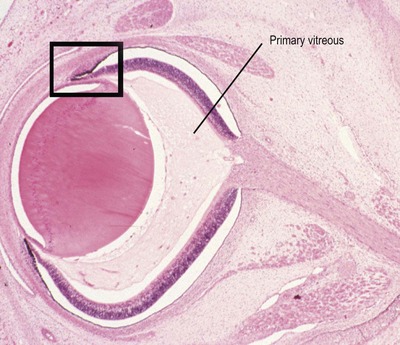 Figure 3.3
• Closure of the optic fissure separating the vasculature of the primary vitreous from the mesenchyme outside the optic cup, and establishment of a continuous inner neuroretina and an outer retinal pigment epithelium
.
▪ Failure of optic fissure closure is one mechanism that can lead to the formation of typical scleral colobomata, usually in the dependant posterior globe
▪ Colobomatous microphthalmos may result from subsequent failure to establish the intraocular pressure that normally contributes to globe expansion
• Development of a multi-layered neuroretina, extension of retinal ganglion cell axons into the optic nerve, formation of ciliary and iridal epithelia, and the formation of lens fibers and eventually sutures (
Fig. 3.4
).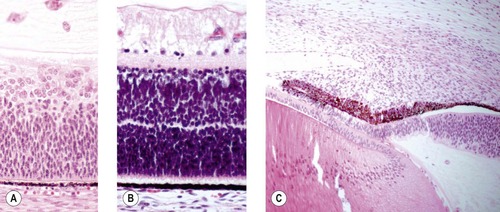 Figure 3.4
• Establishment and remodeling of the stromal layers of the eye including the uveal, scleral, and corneal stroma
▪ Failure of this normal mesenchymal development may be responsible for goniodysgenesis, choroidal hypoplasia, persistent pupillary membrane, Peter's anomaly, variations in uveal pigmentation, and some colobomatous lesions
• Regression of the hyaloid vasculature of the primary vitreous and
tunica vasculosa lentis
and formation of the secondary vitreous (
Fig. 3.5
)
▪ Abnormalities in this process are associated with persistent hyperplastic primary vitreous, persistent hyperplastic tunica vasculosa lentis, and persistent hyaloid artery, as well as vitreoretinopathies such as vitreoretinal dysplasia.

Figure 3.5
• Vascularization of the retina, and the continued development of retinal ganglion cells and their axons, which enter the optic nerve (
Fig. 3.6
)
▪ Failure of these processes leads to neovascular sprouting into the vitreous and optic nerve hypoplasia, respectively.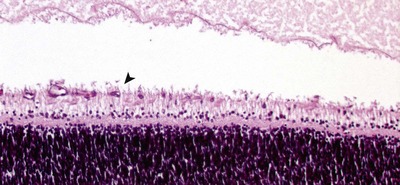 Figure 3.6
• The full development of a multi-layered retina with functional and differentiated photoreceptors (this process continues after birth) (
Fig. 3.7
)
▪ Failure results in retinal dysplasia or photoreceptor dystrophies.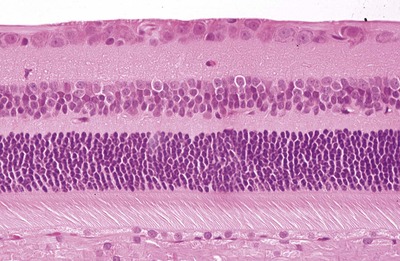 Figure 3.7
• Many of the ocular tissues continue to develop throughout the early post-natal period, or, as in the case of the lens, throughout life. Abnormalities of these processes can lead to diseases that are not manifest in young animals, e.g. many forms of inherited cataract, hence they will not be covered in this chapter.
Comparative Comments
These general principles of ocular embryology apply to humans as well as other vertebrates. Specific congenital abnormalities in the human eye will be considered in the chapters which follow, discussing specific tissues within the eye and in the orbit and adnexa.
The various congenital anomalies arise because of variation in size, location, organization, or amount of tissue that represents a departure from normal.
A number of congenital abnormalities in humans fall under the classification of hamartomas or choristomas.
• A hamartoma is an excessive amount of mature tissue (hypertrophy and/or hyperplasia) occurring in a location in which that tissue is usually found. An example of a hamartoma would be any of the hereditary phakomatoses such as neurofibroma (a mass of mature neural tissue and fibroblasts) occurring in the orbit. No such collection of congenital disorders is described in animals
• A choristoma, in contrast, consists of normal, mature tissue in an abnormal location. Embryologically, this is a result of one or two germ layers forming mature tissue that is not normally found in that topographic location. An example of a choristoma is lens occurring in the lid (a phakomatous choristoma).
Cyclopia or, more correctly, synophthalmos, in lambs, Veratrum californicum toxicity (Fig. 3.8)
• This is caused by consumption of alkaloids from the weed Veratrum californicum (Western False Hellebore) by the pregnant ewe on day 14 of gestation
• The 14 day embryo is undergoing gastrulation to form a neural tube with lateral symmetry
• Affected lambs have numerous developmental anomalies of the face, including arhinencephaly characterized by a proboscis-like nose developed above the fused globes
• Arhinencephaly with synophthalmos in humans is associated with very similar facial and ocular anomalies but no single teratogenic association has been made.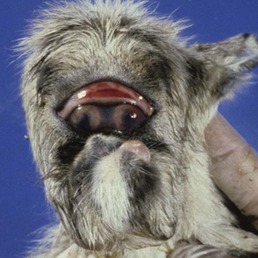 Figure 3.8
(Courtesy of Ron Riis, Diplomate – American College of Veterinary Ophthalmology).
Abnormal ocular development in cattle associated with maternal infection with bovine viral diarrhea – mucosal disease (BVD-MD) virus (Figure 3.9 and Figure 3.10)
• In post-natal infection, the virus causes a necrotizing epitheliotropic disease characterized by diarrhea
• Infection of the fetus is associated with several syndromes
▪ Early maternal infections (before 40 days' gestation) results in infertility, or fetal death and resorption
▪ Infections later may be associated with abortion
▪ Infection after 40 days gestation can result in normal, immune-deficient, or stunted calves that are immune-tolerant of the virus and remain persistent carriers of the virus. These calves are of great importance in the spread and control of the disease
▪ Some calves infected after 40 days' gestation develop congenital abnormalities (
Fig. 3.9
)
– Cerebellar hypoplasia 'dummy calf'
– Ocular abnormalities, typically seen in calves infected later than 76 days but before 150 days gestation, include:
○ Retinal atrophy/dysplasia
○ Spindle cell metaplasia of the retinal pigment epithelium
○ Immunohistochemistry for BVD-MD virus antigen shows staining in blood vessels and punctate staining in the outer plexiform layer (
Fig. 3.10
).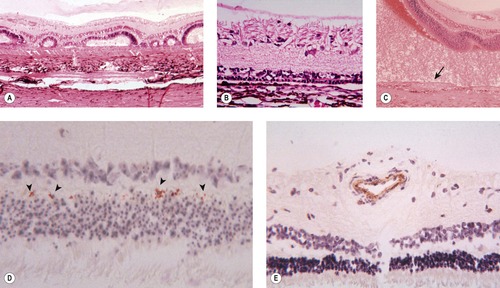 Figure 3.10

Figure 3.9
• In cats infected in utero with feline panleukopenia virus retinal dysplasia is frequently associated with cerebellar hypoplasia
• Retinal necrosis and dysplasia have been reported following experimental infection with feline leukemia virus
• Dogs surviving neonatal canine herpesvirus infection demonstrate retinal dysplasia, necrosis and degeneration, often associated with other ocular abnormalities related to panuveitis.
Comparative Comments
The principle infectious embryopathies in humans are congenital rubella syndrome (Gregg's syndrome) consisting of cataracts, cardiovascular defects, mental retardation, and deafness; cytomegalic inclusion disease; congenital syphilis; and toxoplasmosis.
The major drug embryopathies associated with a variety of eye changes in humans are: fetal alcohol syndrome, maternal thalidomide ingestion during the first trimester of pregnancy, and lysergic acid diethylamide (LSD) ingestion during the first trimester of pregnancy.