Rabbit Basic Science
1.1 Biological characteristics of the domestic rabbit (Oryctolagus cuniculus)
1.2 Housing and husbandry
1.2.1 Housing
The quiet docile nature of the rabbit combined with its fertility and rapid growth rate has led to its intensive production for commercial and laboratory purposes. Units housing several thousand does are found in countries such as China, Hungary and the USA. At the other end of the scale, in the developing world, a few rabbits are often kept as 'biological refrigerators', i.e. a source of small quantities of meat that is fresh and readily available and which can be eaten before it goes off (Cheeke et al., 1982). The social and behavioural needs of such animals are ignored when they are housed individually in small, wire mesh cages or confined to tiny hutches. The Royal Society for the Prevention of Cruelty to Animals (RSPCA), the Department for Environment, Food and Rural Affairs (DEFRA) and other animal health and welfare associations promote the 'Five Freedoms' of animal welfare:
in order that guidelines for animal husbandry and nutrition as far as possible advance the welfare of pet and production animals. There are many welfare implications associated with keeping rabbits in cages, as they are not able to follow their natural instincts.Abnormal behaviour patterns such as stereotypies and restlessness have been recorded. Perpetual wire biting and pawing behaviour has been described in rabbits confined to small cages and does provided with an open nesting box and no bedding material to cover the young (Stauffacher, 1992). A proven link has been established between small cage size and painful conditions such as skeletal disorders or ulcerative pododermatitis in intensively reared rabbits (Drescher, 1993; Drescher and Loeffler, 1996). Morphological differences have been observed in the adrenal glands of rabbits kept in wire cages and those kept in group housing conditions on solid floors (Drescher and Breig, 1993).
In recent years, conditions have improved for many laboratory rabbits. They can be kept in social groups of four to eight animals with no detriment to their health (Turner et al., 1997). It has been proven that rabbits prefer to be in proximity with each other as they are a social species with a defined hierarchy. They also 'interact with enrichment objects' such as wooden sticks, parrot toys or balls designed for cats (Huls et al., 1991). Keeping rabbits in this way not only benefits the rabbits but also the people looking after them. Love (1994) described the response of animal technicians to group housing by saying they 'found it more agreeable to work with rabbits that came to the front of the cage when they heard the sounds of people, rather than cowering away' and 'it was a pleasure to see the rabbits interact with each other'. Stauffacher (1992) describes in detail many ways in which housing for rabbits can be constructed to permit natural behaviour patterns. Despite these advances, most breeding and exhibition rabbits still live their entire life confined to small cages. Some breeders still insist that rabbits should be kept singly in small cages and that large hutches and runs lead to aggression and behaviour problems (Sandford, 1996). At last, the pet-owning fraternity is becoming aware of the rabbit's social nature and need for exercise. There has been a steady increase in the number of house rabbits and the status of the rabbit has shifted from the child's pet to a member of the family. A rabbit can be a satisfactory companion for adults that are out at work all day and find the needs of a dog or cat too demanding. Hopefully the days of keeping pet rabbits in solitary confinement in a barren hutch at the bottom of the garden are now coming to an end. There is legislation governing the welfare of rabbits that is summarized in Box 1.1.
1.2.2 Hutches for pet rabbits
Traditionally, pet rabbits are kept in hutches in the garden, shed or garage. Hutches are a convenient method of housing rabbits; however, most hutches on sale today do not provide sufficient space for rabbits to display their natural behaviours. It is important to provide time outside their hutch for exercise each day. At least 4 h daily exercise is required (Richardson, 2000a). Longer periods or unrestricted exercise are preferable.
The hutch should be as big as possible, especially if two rabbits are housed together. It needs to be situated in a dry, cool, well-ventilated site protected from wind and rain. The minimum recommended size is sufficient space to hop three times in any direction, and high enough for the rabbit to stand up on its hind legs without its ears touching the roof. This space should be available in both the dark, covered portion of the hutch and the open living space. This space requirement should not include the outdoor run. The RSPCA spatial requirements are somewhat greater, the minimum being 1 m (3 ft) wide × 2 m (6 ft) long × 1 m (3 ft) high for both the enclosed and open portions of the living area. In any case where two adult rabbits live together, the space must be increased proportionally and suitable hide areas provided so that each rabbit can get away from the other if they want. The optimum temperature range for rabbits is 15–20°C, which can be checked with a maximum and minimum thermometer. Above this temperature rabbits can suffer from heat stress. Poor ventilation and ammonia build-up predispose to conjunctivitis and respiratory tract infections. It is preferable to situate the hutch against a sheltered wall outside, rather than in an enclosed garage with potential exposure to toxic car fumes. Placing the hutch in a large airy shed can be a good option as shelter is provided with the option of protected exercise space. Many rabbit owners are now using a whole garden shed as a kind of 'super-hutch' for housing two or more rabbits, providing ample indoor space. These sheds are then often attached to large aviary type runs to allow outside access (See Figure 1.1). Rabbits are tolerant of cold conditions and can withstand winter weather provided they have shelter and plenty of bedding material. Thin rabbits with no body fat are more susceptible to the effects of cold and need extra protection on cold nights. Hot conditions and direct sunlight with no shade are distressing for rabbits. These conditions are potentially fatal as rabbits cannot sweat or pant effectively, and are far more damaging than cold conditions. The ability to get out of direct sunlight is of paramount importance, and needs to be considered when providing rabbit accommodation. Rabbits are far more capable of coping with cold and even wet conditions, as long as they have the opportunity to shelter and access to enough food and bedding. When planning rabbit accommodation, allowing the rabbit a choice of positions and therefore ambient temperatures, access to sunlight and shelter is a major benefit. Rabbits produce copious quantities of urine and faeces, which are usually deposited in one part of the hutch that should be cleaned once or twice daily. Bedding that is not fouled and remains clean and dry can be left in the hutch; however, with any deep litter system, a full clean should be done at least weekly, or more often if the bedding is wet or smells. Many types of material can be used as bedding. Any bedding material should be non-toxic, free from dust, comfortable to lie on and good insulation. Garden peat has been recommended to neutralize ammonia and reduce irritation to the eyes and respiratory tract (Malley, 1995). An economical bedding material is a layer of newspaper covered in hay. This can be rolled up for disposal. The hay provides ad lib high fibre food in addition to a soft bed that is kind to the hocks. Other options include straw of various types. The advantage to straw is that it is cheap, easily available and very good at allowing fluid to drain away from the surface of the bedding, reducing potential contact with rabbit skin. Straw can be fairly sharp, depending on what type of crop it is made from, and can in some circumstances cause skin and ocular irritation. Rabbits will sometimes eat straw, which can cause oral trauma if it is sharp. Oat straw is an ideal option as it is soft as well as encouraging fluid drainage. Commercial forms of bedding are also available. These are often recycled paper products, and are well accepted by rabbits, although they are not the most economical bedding. Woodshavings and chips are not recommended because of the potential for dust to cause ocular and respiratory irritation and the possibility of sharp edges causing skin/mouth/eye wounds. Wood products containing aromatic oils may cause respiratory irritation and have been reported to cause hepatotoxicity.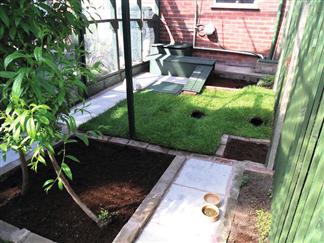 Figure 1.1 Example of outdoor rabbit housing.
1.2.3 Exercise
Exercise is of paramount importance for the physical and mental health of rabbits. Immobile rabbits are at increased risk of ulcerative pododermatitis, osteoporosis, urine sludging and spinal fractures. There is a proven association between confinement and the development of spinal deformities (Drescher and Loeffler, 1996). Exercise improves blood circulation and prevents pressure sores. The opportunity to explore is mentally beneficial. All methods of providing exercise should be escape proof, although escapees instinctively remain close to their home territory and can usually be found providing they have not been carried off by a predator or are in search of a receptive mate. Any outside exercise area should be as large as possible and allow the rabbit sufficient space to run rather than just hop.
Grass and natural vegetation is the ideal diet for rabbits. Access to a garden, enclosure or pen outside provides nutrition as well as environmental enrichment. Natural daylight is the best way of providing the correct amount of vitamin D for the animal's needs. Rabbits enjoy basking in the sun. However, their destructive and burrowing instincts, along with a taste for bedding plants, means free access to the garden should be supervised. Free rabbits are also prey to neighbours' dogs, cats and other animals such as foxes, so supervision or a well-fenced area or mesh pen is required. Ideally this should be a permanent structure that allows the rabbit to establish a familiar territory and feel secure. An area of approximately 3 m2 (10 sq. ft) is sufficient, although larger areas are preferable. Branches, drainpipes, boxes and other enrichment objects can be placed in the enclosure to provide cover and recreation. Planting of suitable weeds/plants inside the enclosure is also a good idea.
It is possible to train rabbits to return to their hutch at specified times of the day by rewarding them with food. Many pet rabbits are tame enough to be picked up, especially if they have been handled daily from an early age. These animals can be given free access to a garden during the day, perhaps under supervision, and returned to the hutch at night. Alternatively, portable wire mesh runs can be used, the familiar territory being sacrificed for the ability to provide a fresh area of forage regularly. There are many designs, some of which can be moved around the lawn, allowing the rabbits to keep the grass down. Enclosed yards are an acceptable alternative to a garden. Rabbits can also be allowed to exercise in the house. In either situation tomato trays planted with edible vegetation (seed packages of suitable plants are available) can provide environmental enrichment.
1.2.4 Burrowing
The opportunity to dig their own burrow is appreciated by many rabbits but not by their owners. Once they have dug out and established a burrow, most rabbits appear satisfied and do not start another. Females are more likely to dig burrows than males as their instinct is to dig out new nesting sites, especially during the spring. Pregnant or pseudopregnant does exhibit marked burrowing behaviour, although it can still be exhibited by spayed females. Burrowing can be accommodated in an outside run with a little imagination, attention to escape potential and buried wire walls. Despite the potential inconvenience, allowing rabbits to perform natural behaviours such as burrowing can make a significant difference to perceived well-being in pet rabbits.
1.2.5 Companionship
Rabbits are social creatures that benefit from companionship, preferably from another rabbit. A bonded pair becomes inseparable (see Figure 1.2). They spend time grooming each other and there are many benefits to mutual grooming, such as reducing parasite numbers in the fur and cleaning inaccessible places such as the face or back of the neck. Occasionally, a dominant rabbit will barber the fur of its companion. Neutering rabbits that are kept together is necessary to prevent fighting and unwanted pregnancies. Guinea pigs are sometimes kept as companions for rabbits, although this arrangement is not as satisfactory as two rabbits together. There is a small risk of the guinea pig contracting Bordetella bronchiseptica, which is asymptomatic in rabbits but can cause pneumonia in guinea pigs. Neutering is required to prevent bullying and constant sexual harassment of the guinea pig. Regardless, some rabbits will still bully their guinea pig companion, and hide boxes small enough to allow the pig in but exclude the rabbit should be provided. If the bullying is severe the welfare of the guinea pig is better served by breaking up the pair. Choosing to pair a rabbit with a guinea pig should not be advocated; however, where a stable pair exists, then the bond is similar to that between two rabbits and should not be broken unless the welfare of the guinea pig is suffering.
Rabbits have distinctive personalities and strong individual likes and dislikes of other rabbits. It is not possible to predict accurately whether newly introduced rabbits will form an instant rapport or attack each other. Neutered rabbits of the opposite sex are most likely to bond, although it is possible to keep same sex pairs together. Pairs of male rabbits need to be castrated to prevent fighting. Ideally, rabbits should be introduced on neutral territory with plenty of room for escape and hiding places to retreat into. If this is not possible, introducing the female to the male on his territory is more likely to be successful than the reverse. When they are first introduced, most rabbits spend a period chasing each other around and pulling some hair out, but will settle down eventually. A rabbit that has spent its entire life confined to a hutch may not realize that it can run around and is daunted by both the great outdoors and its new companion. It is not unusual for such rabbits to remain quiet and immobile for several days before they gain confidence and start to explore. If possible, a period of separated proximity is advisable to allow rabbits to become accustomed to each other's presence before they are introduced. Adjacent pens separated by wire mesh allow rabbits to sniff each other; also change around the bedding to get the rabbits used to the scent of the proposed companion in their own territory. It is a promising sign when the two are found lying side by side on either side of the mesh. Some rabbits never bond; others accept any new companion readily.
1.2.6 Winter housing
The advice is often given that rabbits should be given shelter from the winter weather by bringing the hutch into a shed or garage. As a result, many rabbits do not come out of their hutch for 6 months of the year because owners fear their pet will 'catch a chill'. It is important to provide exercise during the winter as well as the summer. Free-range rabbits that are kept outside all year round often choose to sit in the rain and snow despite having a hutch full of warm bedding to go into if required. They seem impervious to cold and as long as they have access to shelter, plenty of food and protection from predators, rabbits can be kept outside during the winter. Thin or ill rabbits or those that have not been acclimatized should not be kept in this fashion and need to be given extra protection indoors or in a hutch or shed during inclement weather. They can be allowed outside if the weather is good. If rabbits are not exposed to natural daylight during the winter months, vitamin D deficiency can occur. Undetectable vitamin D levels have been found in blood samples taken in spring from pet rabbits housed in hutches over winter (see Figure 1.5) (Fairham and Harcourt-Brown, 1999).
1.2.7 Free-range rabbits
Stauffacher (1992) described the behaviour of rabbits under 'near-to-nature' or free-range conditions. The rabbits were kept in an open-air turfed enclosure with several trees and bushes. They were kept in groups of up to 30 animals and their daily activities followed a double diurnal rhythm with periods of rest alternating with periods of activity around dusk and dawn. During periods of rest, the rabbits sought out places with a good overview of the enclosure under bushes or near trees where they would huddle together and engage in mutual grooming. This method of husbandry permits natural behaviour patterns, encourages grazing and normal caecotrophy and allows animals to groom themselves and each other thoroughly, thereby removing skin debris, dead hair and parasites from the coat. In a study by Harcourt-Brown and Baker (2001) blood samples from rabbits kept under free-range conditions had higher red cell and lymphocyte counts than rabbits kept in hutches, suggesting that they were healthier (see Figure 2.1).
1.2.8 House rabbits
In recent years, there has been a trend to give pet rabbits the run of the house. House rabbits make good companions and can be trained to use a litter tray. They are usually provided with some sort of sleeping accommodation to which they can retreat and can be confined while their owners are out at work. Many house rabbits have their own room that contains an open hutch or childs 'wendy-house' for sleeping. Most house rabbits are neutered, especially males, to reduce territory marking by spraying or defecating outside the litter tray. Rabbits can bond closely with human owners and make entertaining responsive pets. They will play with toys, beg for treats and follow their human companion around the house. Dogs and cats can learn to tolerate rabbits as companions. Rabbits can also learn not to view dogs and cats as predators.
1.2.9 Litter trays
Large cat litter trays or gravel trays from the garden centre can be used for rabbits to urinate and defecate in. Hay, straw, cat litter, peat, soil or 'natural' litters made from hemp, corn cobs or reclaimed wood pulp are all used as litter, materials for rabbits. Clay litters are not advisable as some rabbits will eat the litter, which can then impact the caecum (Brown, 1997).
Organic solvents in litter materials derived from preserved pine wood shavings or cedar chips have been reported to cause hepatotoxicity and are therefore inadvisable (Rabbit Health News, 1991b). Hay or clean, chopped straw can be used in rabbit litter trays.
1.2.10 Thermoregulation
Rabbits are unable to sweat or pant effectively to dissipate body heat. The main thermoregulatory mechanism is by heat exchange in the ears, which have a large arteriovenous anastomotic system. In the nose, the nasal glands moisten inspired air, which also has a role in thermoregulation. Rabbits are unable to tolerate high ambient temperatures, which can prove fatal.
1.3 Digestive anatomy, physiology and nutrition
Full access? Get Clinical Tree