Perhaps the most important indication for laparoscopic repair is the anatomic location of the rent. In one study, a mesoduodenal rent was not accessible with a ventral median celiotomy, so a right flank laparoscopy was indicated and performed successfully (Sutter & Hardy 2004).
Contraindications
There are a few contraindications to the laparoscopic repair of a mesenteric rent. If the anatomic location of the rent is unreachable via laparoscopy, open celiotomy is indicated. Also, unless complete closure can be accomplished, it is suggested that the procedure be foregone to decrease the risk of intestinal incarceration (Sutter & Hardy 2004). It is generally believed that a large rent is better than a small rent. Two other contraindications include excessive hemorrhage from mesenteric vessels and inability to completely reduce the entrapped intestine (Kelmer et al. 2008).
Identification of Anatomy
As Freeman points out in Auer and Sticks's Equine Surgery, the most common site for rents is in the mesojejunum, but tears may also be found in the mesoileum and mesoduodenum, and less commonly in other areas (Freeman 2006).
Anesthesia, Positioning, and Surgical Preparation
Because the horse is usually showing signs of severe abdominal pain, analgesics and sedatives such as banamine, xylazine, and butorphanol are indicated to help facilitate examination on the outset. As with many procedures, one case study administered tetanus toxoid, penicillin G potassium, and gentamicin sulfate presurgery (Sutter & Hardy 2004). The horse is placed (standing or dorsal recumbency) in the position that provides the best access to the rent. In many cases, the standing position is chosen. The horses are sedated and prepared as has been previously described (Hendrickson & Wilson 1996; Trumble & Hendrickson 2000).
Instrumentation
A blunt trocar-cannula unit (i.e., a 10 mm, Karl Storz Veterinary Endoscopy, Goleta, CA) can be used for entry into the abdominal cavity. Rigid telescopes, such as a 10-mm, 33-cm-long 0° viewing angle telescope or a 10-mm, 57-cm-long 30° viewing angle telescope (Karl Storz Veterinary Endoscopy) can be inserted first to help facilitate the entry of other instruments and to begin insufflation and exploration of the abdomen (Chamness 2002).
Additional instruments will be used in other portals. To maneuver viscera atraumatically, 10-mm, 32- to 45-cm-long Babcock tissue forceps (Karl Storz Veterinary Endoscopy) may be used (Freeman & Gallagher 2002). A 5-mm, 32-cm Allis tissue forceps (Ethicon Endo-Surgery, Cincinnati, OH) was used in one study to appose the rent and to place traction on it (Sutter & Hardy 2004).
There are many ways to close the rent. In one study, 10-mm, 32-cm reusable clip appliers were used (Karl Storz Veterinary Endoscopy) to apply large 6.2-mm, 12.5-mm closed stainless steel clips (#LD400, Ethicon Endo-Surgery) at 1-cm intervals (Figure 12.2) (Sutter & Hardy 2004).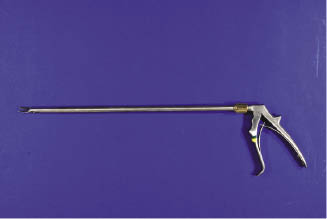 Full access? Get Clinical Tree