Ports
Numerous port designs are available and thus present some confusion as to which are appropriate for a given operative situation. Certainly, the ports need to be of sufficient length to traverse the body wall. As such, they need to have a working length of at least 100 mm to be of use in the horse. Second, they need to have a stabilizing feature to maintain their position within the abdominal wall during operative maneuvers. Ribbed or threaded cannulas are useful in this regard (Figure 6.2).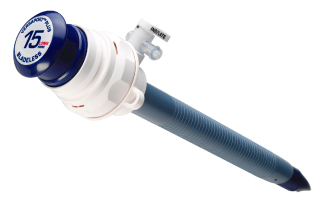 Trocar design is critical in port selection. A bladed or sharp trocar should never be inserted without direct visualization of abdominal wall penetration. Bladeless designs are available for that purpose. Nonetheless, even bladeless trocars can do serious damage if not used correctly.
Seal design and function determine the ability of a port to maintain insufflation during telescope insertion and instrument manipulation. Nondisposable ports utilize a "trap door" valve and require the use of reducers to switch between 5- and 10-mm-diameter instruments. While this trap door flap is generally effective, it can be difficult to clean for reuse. Conversely, disposable ports utilize a bivalve design that requires no reducer to maintain insufflation during introduction of 5- to 12-mm-diameter instruments.
As with other disposable instrumentation, veterinarians are going to strive to reuse. The biggest difficulty in doing so lies in the inability to adequately clean the port seals. This is true whether speaking of nondisposable or disposable equipment. One compromise solution that is utilized by some surgeons is to utilize reusable cannulas along with what is termed "reposable" seals (Figure 6.3). These seals can be purchased individually to allow the surgeon to use a new, sterile-packaged seal for each case.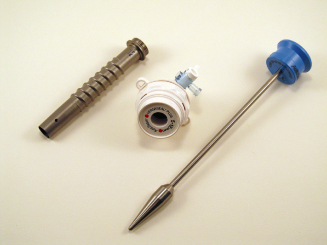 Tissue Manipulation
Once access has been achieved, instruments are needed to mobilize, retract, dissect, and divide abdominal structures. A wide array of disposable instrumentation is available for these purposes (Figure 6.4). A minimum working length of 35 cm is desirable in most instances. Disposable bariatric laparoscopic instrumentation featuring reusable handles with disposable tips is available for larger patients (Mediflex 2011).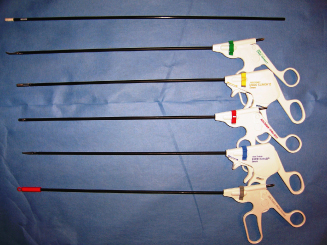 Laparoscopic instruments usually allow rotation of the tips via a wheel in the instrument handle. Some instruments articulate along the shaft to allow a tangential dissection or incisional approach. Those instruments that feature both rotational and articulating features are referred to as "roticulating instruments" (Figure 6.5). Grasping instruments feature atraumatic as well as toothed jaws, and often incorporate a ratcheting mechanism.

When manipulating bowel, blunt-tipped instruments should be used whenever possible. Babcock- or Duvall-type forceps are useful in this regard (Figure 6.6). A cotton- or mesh-tipped probe is invaluable for palpating structures and for breaking down loose connective tissue in the target tissue area (Figure 6.7). During this process, the probe should be advanced parallel to adjacent vessels so as to minimize trauma, which could lead to hemorrhage.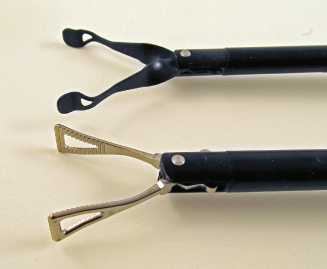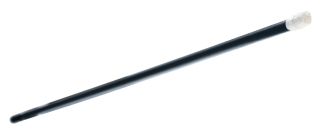 Laparoscopic scissors are of two types: dissecting and suture cutting (Figure 6.8). Dissecting scissors have delicate tips, whereas suture cutting scissors feature compound jaws. Using dissecting scissors to cut suture will rapidly cause them to become dull, rendering them useless.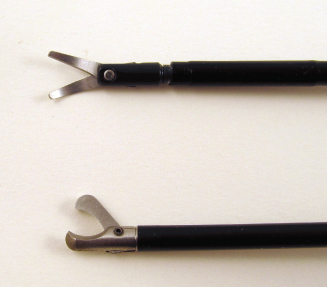 Most disposable laparoscopic instruments have an integrated connecting pin to allow application of monopolar energy via an electrosurgical generator. In most instances, energy delivery is via a footswitch. However, a universal trigger switch is available to allow finger-controlled monopolar energy delivery with most conventional electrosurgical generators (Figure 6.9).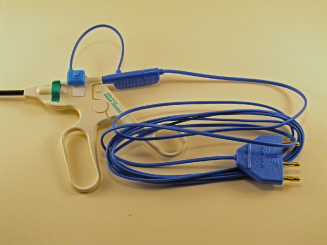 Fixation
Clips
A laparoscopic clip applier should be part of every laparoscopist's armamentarium. Unexpected hemorrhage is not uncommon in laparoscopic procedures. Being able to rapidly apply a hemostatic clip can potentially negate conversion to an open procedure. Clip appliers are available in 5- and 10-mm shaft diameters and feature variably sized titanium clips (Figure 6.10). Most appliers have an integrated wheel that allows rotational movement of the instrument shaft. Right-angle appliers are also available. Disposable clip appliers contain roughly 15–20 staples, depending on staple size. Though they cannot be reloaded, many veterinarians choose ethylene oxide or plasma to resterilize. As mentioned previously, caution is warranted when following this practice as some plastic components have been demonstrated to physically and mechanically change when exposed to ethylene oxide gas (O'Leary & Guess 1968).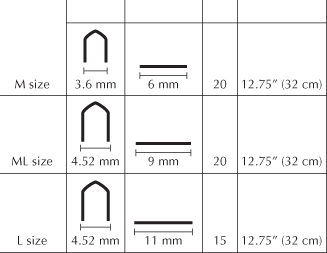 It is important that clips be of a design that allows closure at the tips first during clip formation (Figure 6.11). As such, the tissue to be clipped is captured and not allowed to escape outside the internal boundary of the forming clip. Clips should not be applied when tissue is under tension as slippage may occur when tissue tension is released.

Full access? Get Clinical Tree