Indispensable
Dispensable
Conditionally indispensablea
Precursors of conditionally indispensable
Histidineb
Alanine
Arginine
Glutamine/glutamate, aspartate
Isoleucine
Aspartic acid
Cysteine
Methionine, serine
Leucine
Asparagine
Glutamine
Glutamic acid/ammonia
Lysine
Glutamic acid
Glycine
Serine, choline
Methionine
Serine
Proline
Glutamate
Phenylalanine
Tyrosine
Phenylalanine
Threonine
Tryptophan
Valine
For a long time, it has been assumed that all amino acids can enter the blood when absorbed by intestine epithelial cells. But more recently, it has been found that the small intestine can metabolize to a large extent some amino acids like dietary glutamate and most glutamine in addition to circulating glutamine derived from other tissues (Windmueller and Spaeth
1975
). Glutamine (66 %), glutamate (98 %), and asparagine (99 %) are metabolized by the jejunal mucosa after uptake (Windmueller and Spaeth
1975
,
1976
). Recent in vivo studies have demonstrated extensive catabolism of many amino acids in the pig small intestine in the first pass (Yin et al.
2010
). The biochemical bases for the metabolism of nonessential amino acids (NEAA) in pig enterocytes are now well established (Yin
2008
). And metabolism of essential amino acids (EAA) is believed to play an important role in regulating the efficiency of utilization of dietary protein and amino acids (Le Floc'h et al.
1997
).
Although the classification of the EAA and their assignment into a single category have been maintained in this report, the definition of NEAA has become blurred as more information on the intermediary metabolism and nutritional characteristics of these compounds has accumulated (Nutrition Board and Institute of Medicine
2005
). Laidlaw and Kopple (
1987
) divided dispensable amino acids into two classes: truly dispensable and conditionally indispensable. Five of the amino acids in Table
11.1
are termed dispensable as they can be synthesized in the body from other amino acids.
11.2

The Function of Amino Acids
11.2.1

Metabolism of

l

-Amino Acid

Although the free amino acids present in the body fluids represent only a very small proportion of the body's total mass of amino acids, they are very important for the nutritional and metabolic control of the body's proteins.

The complex metabolism of amino acids can adapt to the physiological functions of intestinal tract and play important roles in the maintenance of intestinal structure and regulation of intestinal function.
11.3

Amino Acids, Gene Expression, and Cell Signaling

Many studies have shown that glutamine modulates expression of genes that are crucial for intestinal metabolism and function. Dietary glutamine supplementation increased intestinal expression (120–124 %) of genes that are necessary for cell growth and removal of oxidants while reducing (34–75 %) expression of genes that promote oxidative stress and immune activation (Wang et al.

2008

). Previous studies have shown that glutamine regulates the mitogen-activated protein kinase (MAPK) activation and c-Jun signaling in enterocytes (Rhoads

1999

). Son et al. (

2005

) found that histidine significantly inhibited both hydrogen peroxide and tumor necrosis factor-alpha (TNF-α) induced interleukin-8 (IL-8) secretion as well as mRNA expression in intestinal epithelial-like Caco-2 cells and HT-29 cells. Moreover, other amino acids also contribute to regulate the intestinal metabolism since treatment of human intestinal cell line with branched-chain amino acids (leucine, isoleucine, or valine) down regulated the expression of the sterol regulatory element-binding protein-2 (SREBP-2), a transcription factor involved in cholesterol metabolism (Chen and Reimer

2009

). Finally, amino acids such as branched-chain amino acids, glycine, lysine, threonine, and cysteine may also play important regulatory roles in the intestine, particularly in improving the immune function (Li et al.

2007

; Calder

2006

; Burrin and Stoll

2007

; Newsholme et al.

2011

; Wang et al.

2009

).

It seems that the functions, in which amino acids are implicated as gene expression regulators, involve the activation of different signaling pathways and transcription factors. In fact, the regulation to gene expression is editing the structure of RNA, including deadenylation-dependent mRNA decay, microRNA-mediated RNA cleavage, regulation of mRNA stability, and tRNA aminoacylation. The two main processes by which amino acids regulate gene expression are control of tRNA aminoacylation and regulation of mRNA through signaling pathway.
11.3.1

Amino Acids Regulate Aminoacylation of tRNA

tRNAs are directly involved in the translation process of gene expression. In that way, they can influence the gene expression. tRNA synthetases catalyze the ligation of tRNAs to their cognate amino acids in an ATP-dependent manner. The reaction is shown in Fig.

11.1

. The rapid hydrolysis of pyrophosphate makes these reactions essentially irreversible under physiological conditions (Fersht and Kaethner

1976a

). Specificity of the tRNA charging reactions is achieved both by specific recognition of amino acid and tRNA substrates, by the synthetase, and by an editing process in which incorrect aminoacyladenylate molecules (e.g., valyladenylate associated with isoleucyl tRNA synthetase) are hydrolyzed rather than conjugated to tRNAs in the second step of the reaction (Baldwin and Berg

1966a

,

b

; Fersht and Kaethner

1976b

). The tRNA synthetases can be divided into two structural classes based on conserved amino acid sequence features (Burbaum and Schimmel

1991

).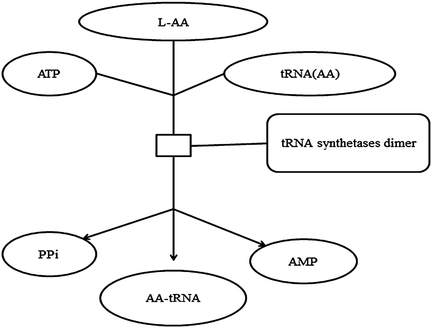 Fig. 11.1
L-AA tRNA aminoacylation. The reaction proceeds in two steps. First, amino acid and ATP form an aminoacyladenylate molecule, releasing pyrophosphate. The aminoacyladenylate remains associated with the synthetase enzyme where in the second step it reacts with tRNA to form aminoacyl tRNA and AMP
A number of tRNA synthetases are known to have functions distinct from tRNA charging (Park et al.
2005
). Additionally, mutations in several of the tRNA synthetases, often affecting protein domains that are dispensable in vitro for aminoacyl tRNA synthesis, are associated with a diverse array of neurological and other diseases (Park et al.
2005
,
2008
; Antonellis and Green
2008
). These findings raise interest into the role of these enzymes in human development and disease.
11.3.2

Amino Acids Regulate Gene Expression Through Cell Signaling Pathway
Full access? Get Clinical Tree